Craving something indulgent yet guilt free this evening? Try these tantalizing fries with a twist! Sure to satisfy with half the calories and oodles of nutrition!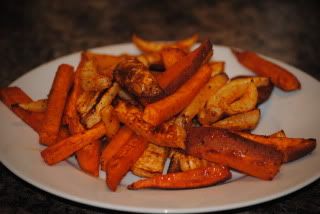 1-2 Organic Sweet Potato's
2-4 Organic Turnips
1/8-1/4 Cup Grapeseed Oil
1/2 tsp. Sweet Paprika
Dash or 3 of your favorite "Garlic & Herb" seasoning (I love Mrs. Dash)
Fresh ground pepper and Pink (or Sea) Salt to taste
Wash and scrub turnips and sweet potato's thoroughly (leave skins on -super nutritious!). Cut into
even
slices, then sticks, about a 1/2 inch or so, just eyeball it.
Place all slices in either a large bowl or a gallon size zip lock, drizzle grapeseed oil and spices. Coat fries evenly with your hands, or working on even coat over in the bag.
Use parchment paper to cover two baking sheets, and lay fries out, try to avoid piling. Bake at 425 for about 20 minutes, or until crisp and brown as you like! It is a good idea to take them out about half way through and turn fries over so they are evenly crisp.
Enjoy with a salad or some lettuce-wrapped ground turkey. Yummy!
Namaste,