What have I been eating for lunch this spring? Lots of "wraps" since my swiss chard grew like a weed, and my Grandmother's as well, so we had to get creative as to how to use it up. Since I am gluten free and don't typically use bread (even the gf stuff is an occasional treat) wrapping things in lettuce, chard and kale has been one way I've done lunches. But this one I've been making for a few weeks takes the cake, so I thought I'd share as summer is fast approaching and cool lunches are a must! Try and make all the ingredients organic, especially the lettuce.
2 large lettuce leaves, your choice, washed
2-3 leaves of swiss chard, stems removed, washed
2-4 slices of organic turkey* (or any meat of of choice, as long as it's ORGANIC; if vegetarian, skip it)
2-4 thin slices of cheddar style goat cheese
Drizzle of Organic Honey Mustard
Several sweet basil leaves, sliced thin, or not
Pile everything in the center of the leaves, and fold like a burrito! Some variations I've done include drizzling balsamic glaze instead of honey mustard, fig infused goat cheese vs. the cheddar style, and I also enjoy adding some sun dried tomatoes!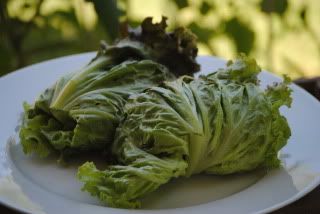 I have traditionally been vegetarian, or mainly "pesatarian" but lately due to my health issues and the guidance of my naturopath, I've had to incorporate some organic lean meats again. If you are vegan, try omitting the turkey and cheese for jalapeño almond cheese, and replace the turkey/meat with a large sun dried tomato or some grilled portobello slices -also super yum!
Enjoy!
*I'm currently loving Applegate Organics Herb Roasted Turkey slices, they are gluten free too, yum!
Namaste,