Recipe: Perfectly Pecan Squares
2 Cups Organic Raw Pecans
2 Cups Organic Pitted Dates
3 Tbsp Raw Organic Hemp Protein Powder
3 Tbsp Raw Organic Maca
1 Tbsp Raw Cacao Powder
1 tsp Organic/Gluten Free Vanilla
½ tsp Sea Salt or Pink Himalayan Salt
½ tsp Organic Cinnamon
½ tsp Organic Nutmeg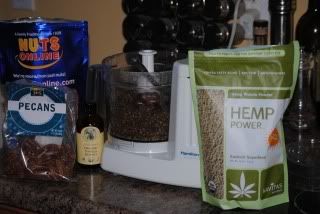 Place half of the pecans and half of the dates into the food processor, along with the hemp, maca, cacao, spices and vanilla. Turn on food processor, and slowly add remaining dates and pecans as you go.
Pulse until finely chopped. If mixture feels a little dry, you can add a teaspoon of raw coconut oil.
Roll into medium-sized balls, and press into square shape. You can always use an ice cube tray as an alternative or other mold. I just do them by hand. Keep refrigerated. These are very yummy with Tazo Decaf Chai tea and almond milk. Enjoy!