So how do you keep up with your healthy diet and lifestyle when you are traveling with tots? It isn't easy, so I'm not going to sell you on the idea that it will be, but it IS possible!
Our little family just got back from a wonderful 9 days on the road in the beautiful state of Washington. We've traveled with Mia twice before, but those were just weekend trips. This was going to be a true test to my new mommy skills and determination to keep myself feeling energized, healthy and fit while traveling. Mia is getting so big, and starting to be very busy, so I knew this was going to be a challenge!
We had to do a 'meet the baby tour' for all of my husband's family and some of my own. Landing in Seattle, we rented a car and drove to Aberdeen, where we spent a few days with Steve's grandparents, brother and sister –in-law and Mia's cousin Fritz, who is 2 months older than Mia. Aberdeen certainly isn't a Mecca for healthy lifestyle with gym's on every block and a local Whole Foods or yoga studio, but if you can keep it up in Aberdeen, you can keep it up anywhere, let me tell you.
Step 1: You let your kindest host/hostess know about your "special dietary needs" meaning, you don't eat…. (fill in the blanks). For me, I am gluten intolerant, and eat primarily "raw", so when they asked what to have in the house, I offered a few simple suggestions such as any fresh fruits and vegetables, as well as raw almonds. They asked if I ate any meat or anything similar, and I let them know that I occasionally eat eggs, and fish. These are simple things that anyone has access to, and if they are in the house you are staying at, you can maintain your healthy diet in that environment. If you are on the road and are eating out, this is even easier! It may not feel easier, but it is. First of all you MUST make your own snacks to bring on the road. This is non-optional ladies. Even if it takes you a WEEK to slowly make the snacks and keep them in the fridge so that you have enough to last your trip, you must do this. What you need to buy you can buy, but nothing can replace the homemade treats you will bring for yourself. These will tide you over in between meals, and help you fill up prior to meals so if you are eating at your favorite restaurant in Seattle (or San Francisco, San Diego, Chicago, New York City or Atlanta), you won't completely fall off the wagon. Decide at the beginning of your trip what your 3 biggest indulgences will be. These can be treats from your favorite restaurants, wine from your favorite vineyards, ice cream from your favorite seaside shop, or that ooey-gooey yummy pizza place (pre-gluten free, my fav spot was Blondies in San Francisco). Those are going to be your premeditated indulgences. Other than that, you are going to do your best to stick to your snacks, your healthy meals along the way, and your daily exercise routines. I love Bethenny Frankel, and one of her sayings that I've adopted is, "Taste everything, eat nothing." Meaning, have a taste of anything and everything you want but don't eat the whole thing… if you absolutely cannot ignore those perfectly seasoned, hot steak fries in front of you, go ahead and have 3 or 4, or even 5 or 6, but don't eat the whole basket. If you "need" that chocolate, have some, just not the whole box.
Step 2: So what kind of "snacks" do you make to bring? What can you realistically transport? I'll simply tell you what I do. First and foremost you pack a giant baggie of raw almonds. These will save you. Secondly, you pack your container of green powder. This you can mix with water or juice anytime, anywhere, and it's a dry powder, so if it spills, ah well. After that, you can either make (I prefer) or buy things to pack into this extra special duffle bag or small carry-on that will be your go-to for the entire trip. There are a couple of items that are gluten free out there that I love. The first are my Two Mom's in the Raw snacks/bars: http://www.twomomsintheraw.com/ These products are fantastic, you will love them as much as I do. Their recipes are simple and easy to make, but if you simply don't have the time to make your own, but you have the resources to spend on purchasing some of the most high-quality, raw, superfood snacks out there, then spend your money on these products. Starbucks (leave it to 'em) have actually cashed in on these and are carrying them as well (long after superfoodies like myself have been ordering them online and cheered when Whole Foods finally started carrying them).
Second are the KIND bars. They actually sell these at Starbucks all of a sudden, so you can grab them there while you're on the road, or you can load up prior. http://kindsnacks.com/ Perhaps you have another favorite snack or bar you like to take around with you, and if that is the case, stock up!
If you do want to make your own snacks, I highly recommend it! My three go-to snacks are all recipes on my blog here; the Figalicious Fun Bars, the Cashew Cookies and the Spirulina/Cacao balls ("Little Black Balls"). I also like to make my own trail mix. I use goji berries, raw almonds, raw cacao nibs, and a variation of other dried fruits and nuts such as cashews, pumpkin and/or sesame seeds, diced and dried apricots, etc. You can make your own granola clusters and "candy" (peanut butter, gluten free oats and raw honey mixed and flattened onto some wax paper, cut into squares and rolled). These are just a few suggestions, but there are a million and then some recipes out there for granola bars, trail mixes and other on-the-go snacks you can prepare. If you want something other than just your green powder, you can make individual plastic baggies of smoothie powders (I typically will portion out raw cacao and maca powders, spirulina, chia seeds etc.) to add to a smoothie when/if you get the chance to. The point is, there are always options.
Step 3: Let them know about your "schedule." You can start by explaining any kids/baby's schedules, followed by... "and when they have their first nap, I will leave so and so with you, and go for my run. I then do 20 minutes of stretching (100/100/100) when I get back, shower, and then I am free to do what you would like for the rest of the day!" This gives them warning that you have a couple priorities for your visit, and as long as you have the allotted time to complete those, you will be a happy camper. Remember, vacations aren't just for the family, they are for you too. And if you aren't able to maintain your healthy sense of being, no one will be having a good time. If you are staying in a hotel, or going form hotel to hotel, this will be even easier. All you have to do is ACTUALLY GO AND USE the workout facilities that they have. As nice or as simple as they may be; all it takes is a treadmill, and a few hand weights. If those aren't available, take in the local sights as you hit the pavement, then follow up with your stretches and 100/100/100 on your hotel room floor on a towel or sheet. Shower, and enjoy your day and any special treats guilt-free. If leaving the baby isn't an option (relatives are great if you are staying with them, they love this time alone with the kiddies to babysit) you can always pack them up in the stroller and hit the pavement just as well. If you need to make up a kiddie boot camp and have your kids doing a mock 100/100/100, do it! Kids love "boot camp" type activities. Anything organized that you can make seem fun. If you have just one baby so far like I do, then the stroller is your option, or probably a relative hungry for baby time will be happy to take them off your hands for an hour.
Step 4: Utilize the resources around you. When I went running (all but 2 days of our 9 day trip) I would pick the delicious and wonderful blackberries on the bushes along the trails I chose. I hit up every single farmer's market I could and purchased enough fruits and easy-to-eat/clean veggies to last a couple of days. I ate gorgeous organic honey crisp apples (my personal favorite!), peaches, purple bell peppers, sweet carrots and golden raspberries. I was in heaven!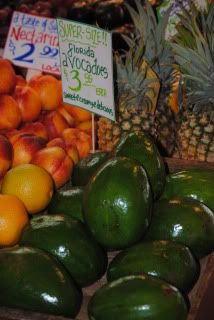 Pikes Public Marketplace put me into absolute Nirvana, as it usually does. There is a fantastic bakery that serves up a variety of the most delicious gluten free treats, such as The Monster Cookie, an oatmeal raisin cookie that is TO DIE for, as well as banana bread, muffins, cinnamon rolls and more. I make sure to stop there each trip, this is one of my "indulgences" that I totally plan for and look forward to.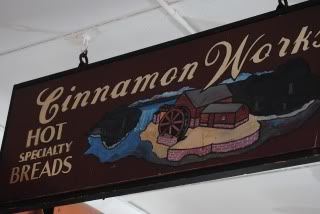 There is an endless variety of fresh, organic fruits, vegetables and seafood which we took full advantage of, and it was key that almost everywhere we went we walked there.
If there is fruit or other healthy snacks available complimentary at your hotel, use them. If you are staying with friends, load up on plenty of groceries that are healthy and offer to cook a meal or two for them so you can stick to your healthy eating. Ask to keep whatever foods or snacks you need in their fridge, I'm sure they'll be more than happy to allow you.
Step 5: Drink water. It's as simple as that. We tend to be so busy, flustered, keeping up with this kid and that or the 15 bags you somehow ended up lugging through the airport for just your one baby, making flights on time, getting oriented once you actually got to the rental car, driving here and there, make sure you stay hydrated. Dehydration can lead to increased appetite, headaches, constipation and sugar cravings. I don't know about you, but all of the above sound like they make a nightmare of a time. Get yourself a huge water bottle before you get in your car (for a road trip) or after you get through security (at the airport) and keep it with you. Reuse it, fill it up at every stop. And if you are staying at a hotel, they usually have a water cooler in the workout room, where you can refill your water bottles without paying $8 for the bottle of Fiji Water in your room. If you need to stop at a local grocery store and buy a few bottles of SmartWater to stay hydrated, do so. That is what I usually do, especially as a breastfeeding Mom. Staying hydrated and keeping my electrolytes stocked is crucial.
So there you have it. This is what's worked for me, and my sweet Mia, who stayed fabulously on her schedule, right along with Mommy.