How many of you out there are either gluten intolerant, gluten sensitive or celiac? How badly have you missed delicious fresh-from-the-oven confections that you don't have to struggle over yourself? Well then, you simply MUST visit my friends at Gluten Free Creations Bakery in South Scottsdale (AZ).
If you've ever eaten the tasty gluten free pizza at Red, White & Brew, Spinato's, Sourdough Pizza Restaurant, Vitos' Pizza, Nello's Pizza, Barros Pizza or Streets of New York, then you are already familiar with the tasty handiwork of GFC Bakery! They also provide gluten free delights for other fine establishments in the valley such as Indulge Burgers, J.W. Marriot's Blue Sage Café, Gooseberries Lunch & Tea Room, Octagon Café and more!

They offer a wide variety of treats right out of their bakery location, including many mixes you can take home and whip up yourself. Sweet and basic baking flours, bread mixes, desert mixes, mock-graham cracker crumbles for crust, breakfast mixes for pancakes or waffles.
You can pick up fresh loaves of cheddar cheese bread, English muffins, tasty donuts (you simply must try the "Insane Chocolate" flavor!) almond flax bread, cinnamon coffee cake, brownies, pecan wedding cookies, and many more.
They have tasty bagels, muffin and cupcakes, breakfast breads, cinnamon rolls, everything your little gf heart could desire. They also have dairy-free selections for my lactose intolerant friends. If you're looking to pick up a couple of deserts for the holiday's, they can help you out there too. They have delicious pumpkin bread, cinnamon rolls, pumpkin and pecan pies, date nut bread and harvest donuts!
My favorite feature is their wonderful birthday and celebration cakes! Lisa (the fabulous gf pastry chef) will create a wonderful cake for you, anything from red velvet to German chocolate, French vanilla with raspberry filling, and beautifully decorated. Gluten Free Creations Bakery is located on the S.E. corner of McDowell and Miller near the Peter Piper Pizza and H&R Block, or visit their website to order online!
http://www.glutenfreecreations.com/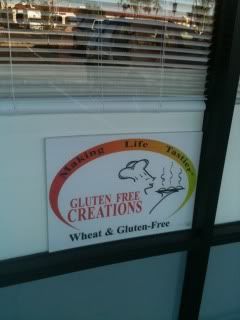 Namaste,