I got the base of this recipe off the back of my quinoa flakes box, but it needed some serious fixing up. So after I made a couple of changes, and added a thing or two, these muffins were the perfect start to my Sunday, and Mia ate them up. Completely gluten and dairy free, they are rich in protein, and melt in your mouth.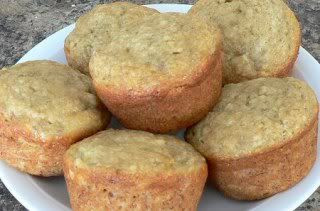 2 Ripe Bananas
2 Eggs
2 Tbsp. Organic Raw Honey
7 drops Liquid Stevia
1 tsp Organic (gluten free) Vanilla
1/2 tsp Pink or Sea Salt
1 tsp Banking soda
2 tsp Baking powder
1/4 tsp Nutmeg
1/2 tsp Cinnamon
1/2 C. Quinoa Flakes
1/2 C. Blanched Almond Flour
Preset oven to 400 degrees. Mash bananas and combine with vanilla, stevia, honey and eggs. Stir together well. Whisk together dry ingredients in separate bowl, then combine all ingredients. Grease muffin tins (I use coconut oil spray) and fill about 2/3 full with batter.
Bake at 400 degrees for about 15-20 minutes, possibly more or less depending on your oven (start checking about about 13 min). Mine were perfectly done at 15 minutes. Mix it up by trying the recipe with peaches or blueberries, both also SUPER yummy! Also, you can add 2 Tbsp of cacao powder to make them chocolate banana muffins... probably the best thing you'll ever taste muffin-wise. :)
Enjoy!
Namaste,