Recipe: Raw Cashew-Coconut "Cookies"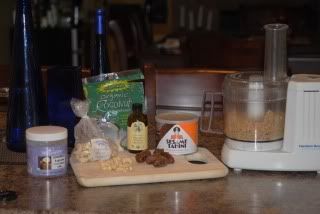 1 Cup Raw Cashews
1 ½ Cups Raw/Organic Pitted Dates (or 1 large handful)
½ Cup Organic/Raw Shredded Coconut
1 Tbsp Raw Organic Coconut Oil
1-2 Tbsp Raw Tahini
1 tsp Organic, Gluten Free, Vanilla


Toss all ingredients into food processor, chop until finely ground.
Using a teaspoon, form small mounds, and press into round and slightly flat shape with hands.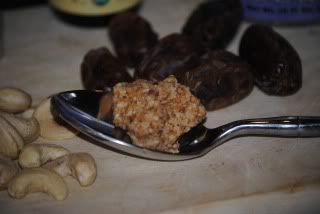 I love these plain, but you can also add on top some raw cacao, using a basic recipe for raw chocolate. In a pinch (and this is the way my husband prefers it) you can use Nutella (if you are not dairy sensitive, it does contain skim milk). Just spread a dab on top of the cookies for a real treat! Keep refrigerated.