Quinoa is a complete protein source, containing a balanced set of essential amino acids. It is easily digestible, packed with fiber, phosphorus and high in magnesium. It's so good for you! I cook it and use it in place of rice with dinner meals , I use it for breakfast cereal as well, and many other things! I like to purchase my quinoa at
www.nutsonline.com
for only $3.99/lb. But of course you can get it at your local health food store, such as Sunflower Market, Whole Foods, Sprouts, etc.
Good Morning Quinoa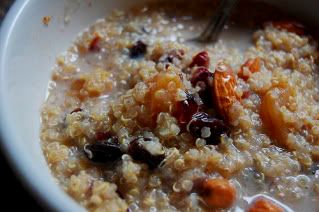 1 Cup Cooked Quinoa, or more if you'd like (if you don't cook it fresh, warm it on the stove from the fridge)
½ -1 Cup Almond Milk
¼ Cup Chopped Almonds (or walnuts/pecans)
Dash or two of Cinnamon
I dropperful of Stevia, or 1 Tbsp of Raw Organic Honey (no agave nectar girls, its worse for you than high fructose corn syrup!)
Dash of Sea Salt
½-1 Cup chopped Organic Fruit of your choice; I usually use peaches, berries, banana, or my favorite, green apple!
*Optional: Buttery Spread –I use Earth Balance Soy Free Buttery Spread when I feel like it, instead of butter
Toss it all together and heat everything until warm in a saucepan. You can sprinkle the nuts on top afterwards as an option. Make a big batch and re-heat for mornings when you're in a rush. Enjoy!
Cool Quick Quinoa
2 Cups of Organic Quinoa prepared according to directions. Cool (either in fridge, or let stand still).
1 Organic English Cucumber (you can use ½ or so if it is very large)
3 Organic Green Onions (you can sub whatever onion you happen to have, about a ½ cup chopped)
1 Large Organic Avocado
*1 Cup Organic Cherry Tomato's cut in half or more (this is optional; my husband hates tomato's)
1 Bunch Basil (you can have fun with this, and try other herbs, I've used mint, cilantro and parsley)
¼ Cup Balsalmic Dressing of your choice (I LOVE the Unforgetable's Balsamic Dressing)
Dash of Sea Salt (or Pink Himalayan Salt)
Grind or two of fresh black pepper
Simply chop cucumber into quarters/bite-sized pieces, as well as avocado and green onion, then add to quinoa. Toss everything together, adding the sea salt and pepper, then drizzle with the dressing, toss/coat evenly, and ENJOY! This is really good chilled in the fridge, and you can make a huge Tubperware of it and keep in the fridge for a snack.